This graphic shows all those lost on September 11th 2001.
For the 9/11 tribute I was assigned Moira Smith, a young New York police woman. Moira was born Moira Reddy on the 14th February 1963 in Brooklyn New York, her parents were Irish emigrants. She was a popular girl at school where everybody remembered her infectious laughter. She loved sports and when she left school worked in the travel industry where she could indulge in her love of travelling and seeing new places.
Moira joined the New York Police Department on July 11th 1988 working in the Transit Police Department before transferring to 13th Precinct in March 1996. She met her future husband James, also a New York police officer while working in the transit department. They were both avid sports fans, their first date on Valentine's day 1992 was spent at a New York Rangers game. James has said they both fell in love that day, he with her and her with one of the New York Rangers players! Moira and James married in May 1998. They enjoyed holidays together running with bulls in Spain and riding camels in North Africa. Their lives were made complete in July 1999 when their daughter Patricia was born.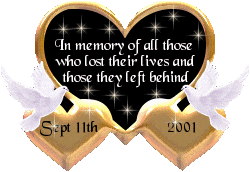 Moira had led an exemplary life in the police force, receiving the Distinguished Duty Medal for her part in a rescue operation when a subway train derailed on August 28th 1991 killing five people and injuring 200 passengers. Moira worked through the night in appalling conditions to rescue people. Three years later she was in the news again when a bomb exploded in a subway car at Fulton Street, again she worked to rescue several people.
On September 11th 2001 Moira was miles away from the WTC when she saw smoke rising from the towers, she was one of the first to radio in and report it. She had no need to go there but being the person she was she got there as quickly as possible to help in the rescue. The photo above shows her leading an injured man out from the site and the last time she was seen was inside the towers by the escalator. She was shepherding the workers out, telling them not to look at the carnage around them, just to get out as quickly as possible. The tower then collapsed burying Moira, her police officer partner Robert Fazio and many others in the rubble.
Moira's body wasn't found until March 2002, there had been a memorial service in February for her at St Patrick's Cathedral, her funeral service was held the following month at Our Lady of Lourdes church in Queens village.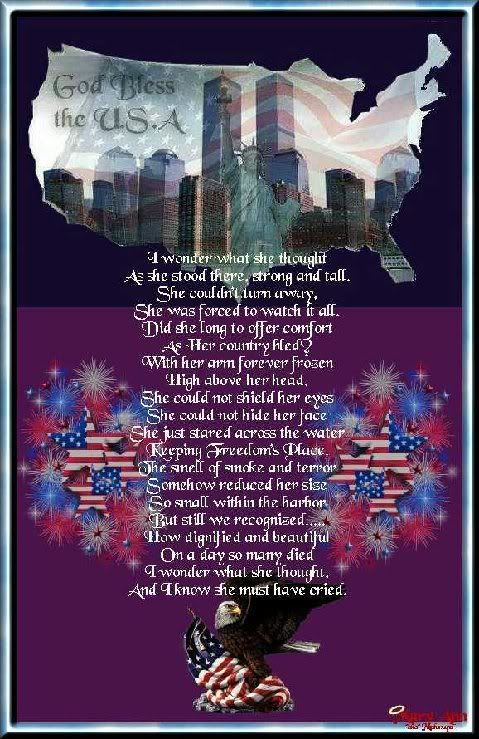 Seventy one law enforcement officers were killed that day, Moira was the only female officer to lose her life. She was only the second female officer of NYPD to be killed in the line of duty.
Moira was posthumously awarded the NYPD's Medal Of Honor, the highest award for bravery. A ferry has also been named after her and runs between pier 11, the Brooklyn piers and the East 90th Street dock.
I know her family miss her terribly, may she rest in peace and watch over them as the angel she was on earth and is in heaven.

It's been a great honour to write about Moira, albeit a very sad one. Let's never forget all of the brave people that gave their lives, we lost a lot of heroes on that day.
When tomorrow starts without me
And I'm not there to see
If the sun should rise and find your eyes
All filled with tears for me.
I wish so much you wouldn't cry
The way you did today
While thinking of the many things
We didn't get to say.
I know how much you love me
As much as I love you
And each time that you think of me
I know you'll miss me too.
But when tomorrow starts without me
Please try to understand
That an angel came and called my name
And took me by the hand
And said my place was ready
In heaven far above
And that I'd have to leave behind
All those I dearly love.
But when I walked through heaven's gates
I felt so much at home.
When God looked down and smiled at me
From his great golden throne
He said, "this is eternity
And all I've promised you"
Today your life on earth is past
But here it starts anew.
I promise no tomorrow
For today will always last
And since each day's the same way
There's no longing for the past.
So when tomorrow starts without me
Don't think we're apart
For every time you think of me
I'm right here in your heart